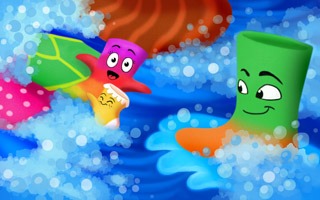 The SockKids
Client: Trailer To The Stars | Michael Sullivan
Released: March 2016

(From the producer)
In this multi-colored illustrated and animated children's video and book series, The SockKids, readers and viewers follow the Socker family through many exciting adventures. The SockKids teach about how bullying hurts everyone to understanding why some children are sometimes afraid to go to school to showing our differences are what make us each special. The uniqueness of The SockKids is displayed through their many colors and wonderful personalities as they sometimes time travel through the spin cycle of a washer. It is during these journeys the SockKids champion all children and all cultures.
Perhaps you'll wonder where your missing sock has gone. You'll have to look no where else but here — as your socks could be traveling with the SockKids on a cool adventure!
Children and their parents will be drawn to the diversity of the family and the universal and timeless lessons they teach: don't be afraid of new experiences; treat others as you would like to be treated, and of course, beware of the spin cycle!
Contribution:
Composed, recorded and produced underscore music (not opening music), sourced sound effects (foley artist), mixed and mastered final audio for the "The SockKids Learn How to Prevent Bullying" episode, produced by Trailer To The Stars.
---
---
Tagged with:
foley for animation
,
music
,
music composer for animated series
,
music for animation
,
sfx for animation
,
sock kids music
,
sock kids music composer
,
sock kids sound design
,
sock kids sound designer
,
sockkids music
,
sockkids music composer
,
sockkids sound design
,
sound for animation
,
soundtrack
Posted in
Credits
,
Film/Animation