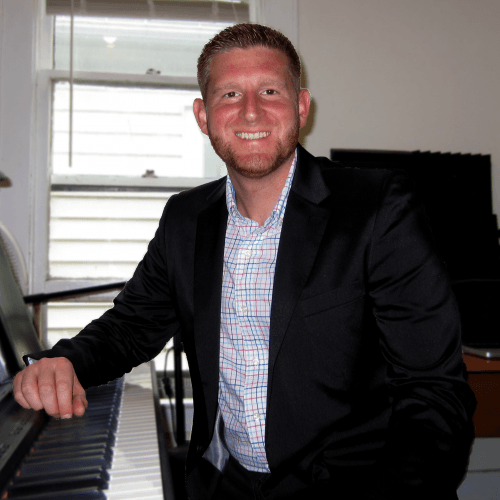 Composer, producer, songwriter, and sound designer with over 18 years of combined writing and studio experience. I hold a degree in Music Performance and have composed music and sound effects for films, advertisements, video games, audiobooks, podcasts, and more.
Services

Music Production
Songwriting
Commercial Jingles
Video Game Soundtracks
Sound FX/Foley
Film Scores
Audio Editing
Audio Mixing/Mastering
Podcast Production
Music Engraving / Transcription
Voice-over
Other Services

Web Development/Design
WordPress Theme Edits
Graphic Artwork
Game Development
I enjoy other types of creative work as well. I've been programming for over 8 years and have designed web sites, video games, and other interactive media applications. I have proficiency in HTML, CSS, Javascript, jQuery, and PHP. You may view my web development portfolio here: jimkulakowski.com/web-design

---
Location: Santa Monica, CA
My Story
I have had interests in music since I can I remember. As a child, I recall waking up on Saturday mornings to the boomy, walking bass lines of old jazz recordings, coming from my father's homemade speakers.
When I was eight years old, I began taking piano lessons. After a year, or so, my teacher retired and I opted not to find a new instructor. Rather, I set out on my own quest to discover the intricacies of the instrument. I also experimented with other instruments, such as the trombone and drum set. At fourteen, I wrote my first piece — a solo piano work entitled "Dracula," based on the novel by Bram Stoker, which I was reading for my eighth grade english class at the time. It featured a descending bass line and extensively long trills. Around this time, I also played drum set in a three-piece classic rock cover band, named "The Soul." We played garageband-style renditions of classics from Cream, Led Zeppelin, and The Who, among others.
In high school, I began to write pop songs prolifically. Additionally, I studied music theory, played percussion in the marching band, and sang in the Cicero-North Syracuse High School Select Vocal Jazz group. After the breakup of "The Soul," the bassist and I became key members in a band named "The Businessmen." We gained popularity among our peers and had considerable success, releasing our own album and gigging regularly.
I continued my music studies at Onondaga Community College, majoring in music performance with a focus in classical guitar. I played in guitar quartets, accompanied students majoring in voice, and had several live performances each semester. After two years of intense study, I started to gain interest in electronic music production. I already had some studio experience from my involvement in the studio recording and production of The Businessmen's debut release. I had a sudden, strong desire to lead a project, designing and mixing drum sounds, piano, guitar, bass, synths, and various samples together.
My undeniable interest prompted my concentrated research into beat production. I researched sampling techniques, production styles, and quickly learned how to create my own tracks. I read books and articles relating to the use of equalizers, compressors, and limiters and discovered new ways to audibly enhance my recordings. Eventually, I began to market my productions by placing them in various online retail libraries.
I now work on various music and audio related projects throughout the world. I have produced and licensed music for films, advertisements, video games, audio books, podcasts, and more. I have also produced podcasts and have worked as a voice-over artist as well. I continue to hone my craft, writing everyday, growing with each new project, and learning from clients, friends, and colleagues.
---
Do you have a song idea, need a jingle, or need music for your game, short film, audiobook, or other production? Please, contact me to discuss ideas and to obtain a quote. I can't wait to get started!