Brahmster's Inc.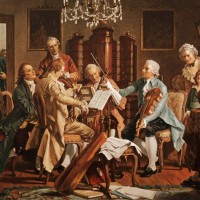 "Brahmster's Inc" is a fun, up tempo, classical theme that resembles works from classical composer's such as Brahm's, Mozart, Hadyn, and many others. The title was inspired by it's initial commission, a feature in a monster based video game with art work that resembled the Pixar hit, "Monster's Inc."
The music features off-key accents on emphasized beats, a staple of the classical era. The instrumentation features piano, accompanied by what is essentially a light string orchestra with a few woodwinds.
This tune would be a great addition to an animation and/or video game. It is light-hearted, warm, and fun like the music from Disney and Pixar films.